WEBINAR: China Market Entry 101 | Register Now!
20 September, 2021
Entering the China market is challenging for brands of all sizes. The purpose of this webinar is to provide an honest and practical overview of the steps to China market entry and to go over the checklist that brands need to be aware of.
The session will cover topics that range from the digital landscape and different modes of China market entry, to reaching your target Consumer and converting to sales, as well as case study examples of best practices in the market.
Date: 28 Sep 2021
Time: 3.30pm – 4.30pm CST
Speaker: Ryan Molloy, CEO of RedFern Digital
"Click Here" to register now!
ABOUT THE SPEAKER
Ryan Molloy has lived in China for over 17 years and has worked in the China marketing industry for nearly 10 of them. As CEO of RedFern Digital, he has worked with some of the biggest brands coming into market, covering branding, strategy, social media marketing, e-commerce and more.
Australia-China FMCG Showcase
17 September, 2021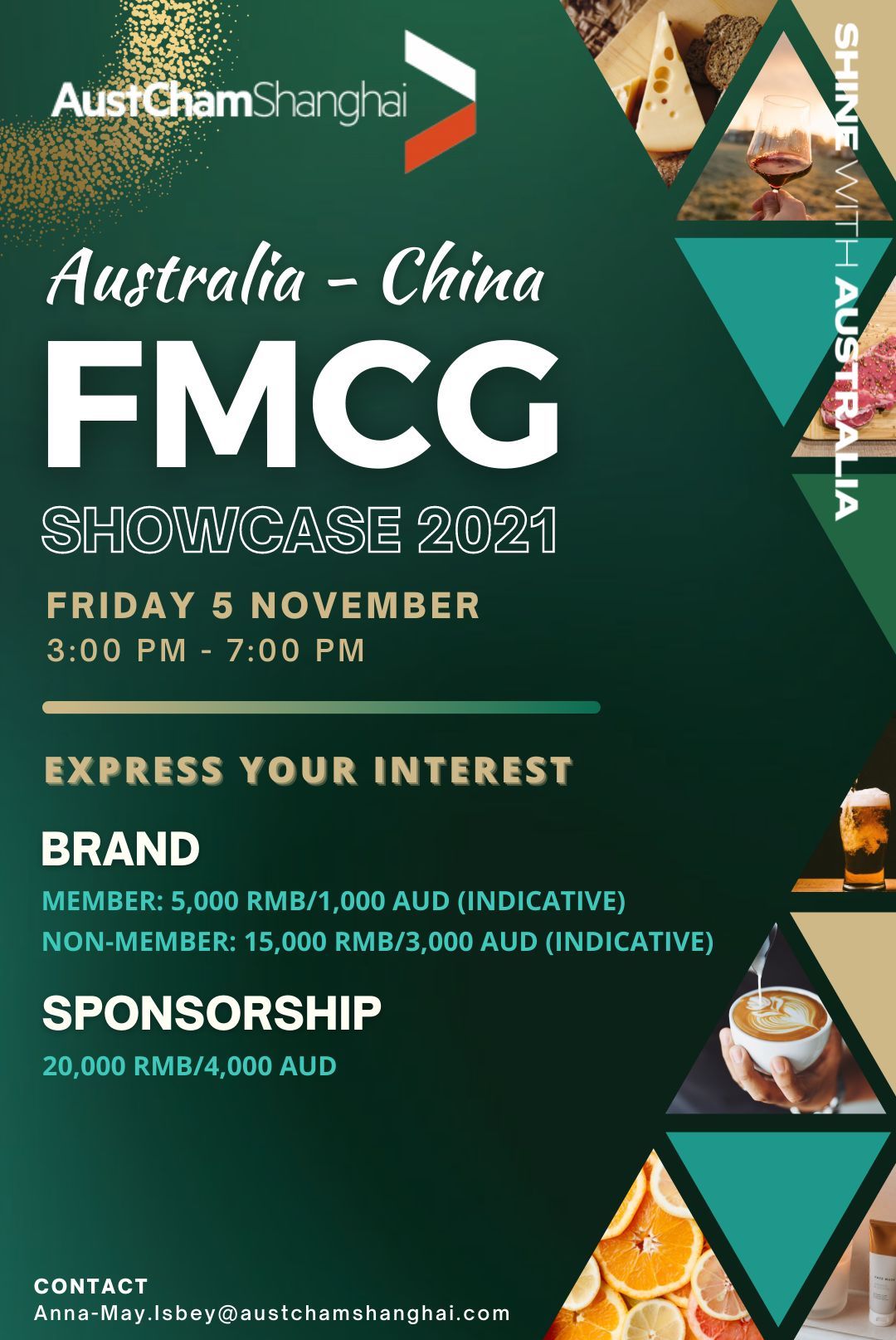 RedFern Digital is proud to be partnering with AustCham Shanghai for the Australia-China FMCG Showcase, alongside Australia China Business Council, Investment NSW, 31Jiu | 叁壹酒, Coles, Baldwin Boyle Group, and supported by Australian Trade and Investment Commission (Austrade) as part of the Shine with Australia campaign.
The showcase will be a great opportunity for Australian FMCG brands to reach key Chinese distributors and receive business matching services before the noise of the 2021 China International Import Expo (CIIE). All brands involved will be included in Austcham Shanghai's digital brochure, which will be distributed to invitees of the Showcase.
Brands that are interested can scan the QR code below through WeChat, Click Here, or email [email protected] directly. Don't miss out on this opportunity!
THE RED EDITION: ISSUE 4
14 July, 2021
Announcing RedFern Digital's release of the fourth issue of our magazine:

As we pass the halfway mark of 2021, in this fourth issue, we'll be exploring a number of topics related to the expansion of E-commerce in China, how this year has shaped new trends in different categories, and what steps brands can take to continue succeeding in the market.
A wide variety of topics are covered, including looking at the different shopping festivals in China (such as the recent 6.18 Mid-Year Shopping Festival), the prevalence of video content, the growing competition between Chinese E-commerce platforms, specific deep-dives into shifts within the Seafood, Alcohol and Cosmetics categories, and more. Don't miss out on the insights and suggestions provided in the articles!
We would also like to give a special thanks to our partners from Drinks99, Knudsen&CRC, Alibaba Group and Integra Group for their article contributions.
"Ecommerce was once was an avenue that justified offline sales in the middle kingdom but now offline has found itself in reverse. At RedFern Digital, we have found ourselves carrying out more offline sampling than ever before, as offline has become the most affordable avenue to capture consumer attention, attract first time trial and then later convert into repeat online purchases. What is clear is that there is no one channel or platform that can help a brand unlock their China success, but a combination of them all."
– Ryan Molloy, CEO
The fourth issue of The Red Edition can be accessed by clicking
DOWNLOAD HERE. 
This issue will cover the following topics:
Message from the CEO
The Future of China in Video
Shopping Online Through China: Festivals Throughout the Year and the Recent 6.18 Mid Year Festival
Ranking War in the China E-commerce Market
GACC Degree 248 & 249: What do they mean for Overseas Food Exporters to China?
Diving into the Seafood Opportunity in China
Partner Insight: Interview with Drinks99 – Insights on the Alcohol Sector in China
Partner Insight: Interview with Knudsen&CRC – Animal Testing No Longer Mandatory after New Cosmetics Laws in China
Partner Insight: Alibaba Group – Britain's small businesses are built for exporting
Partner Insight: Integra Group – China Steps Up Protections for Copyright Works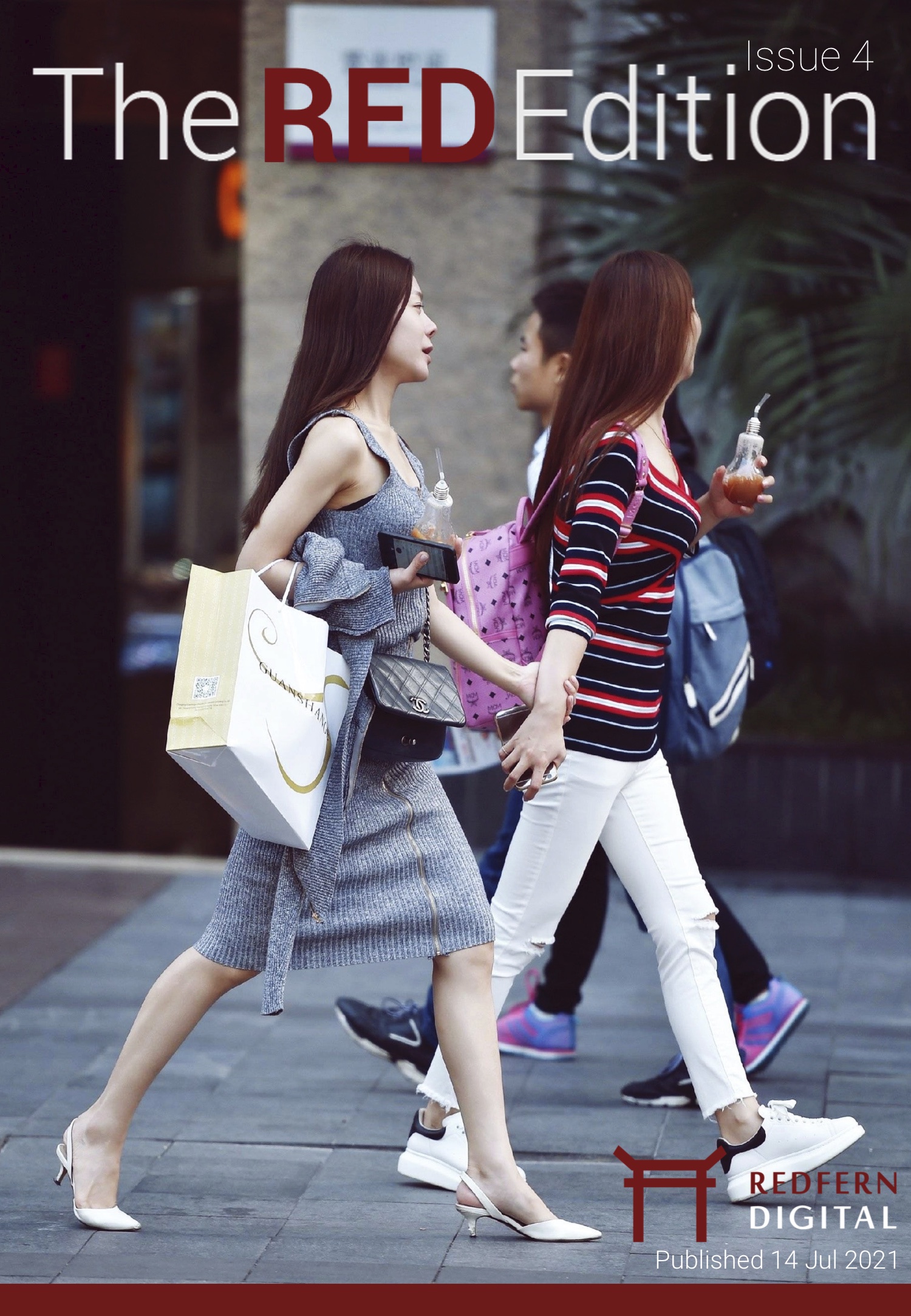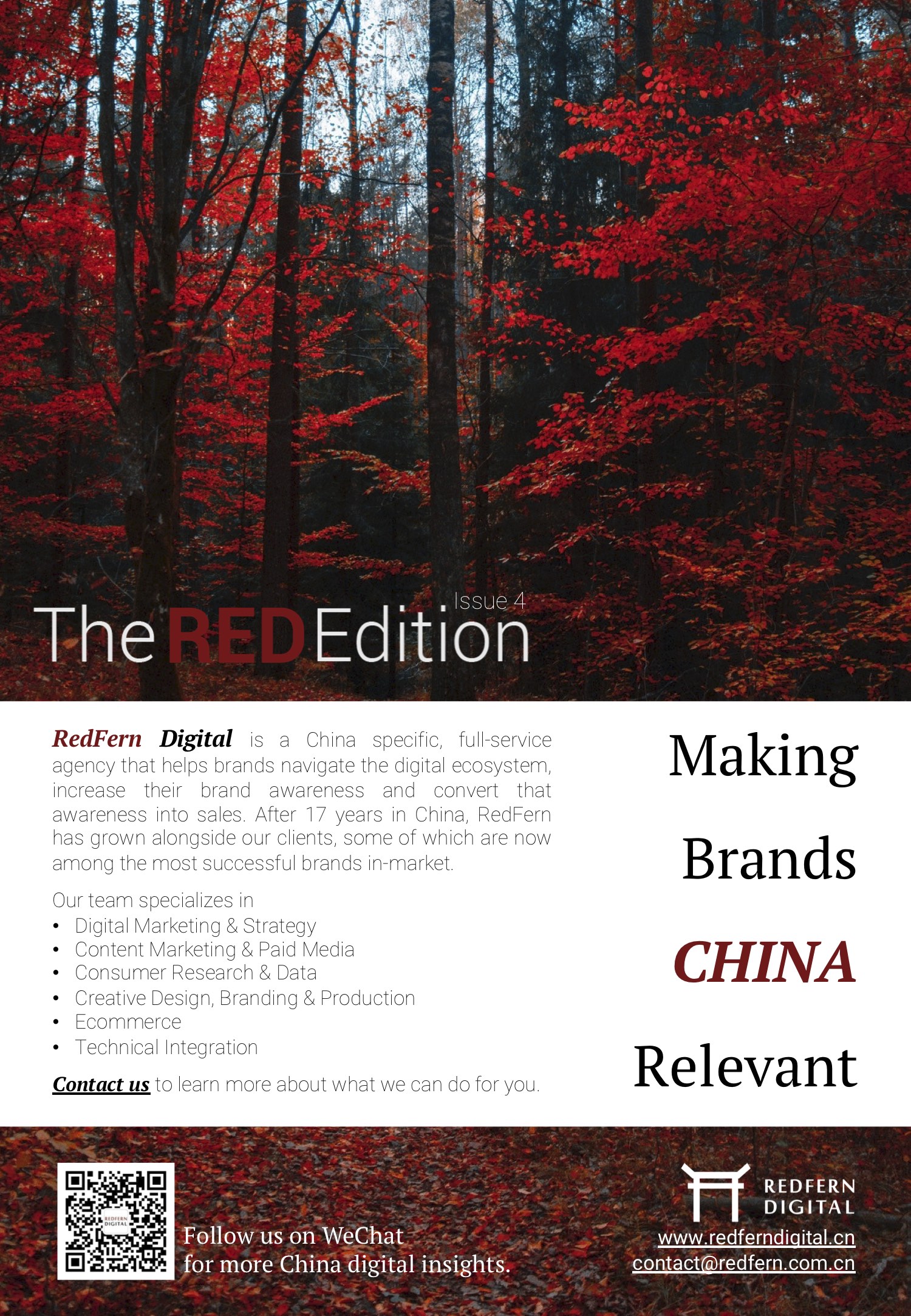 Excerpt from "Shopping Online Through China:
Festivals Throughout the Year and the Recent 6.18 Mid Year Festival"
When it comes to China, a major driver of online shopping is the wide range of festivals that take place throughout the year. They provide an opportunity for brands to develop campaigns or offer promotions and discounts to customers.
A common misconception among brands is that the only shopping festivals they should take note of or participate in are the two largest ones, the 6.18 Mid-Year Shopping Festival and the 11.11 (Double 11) Single's Day Shopping Festival. Although these two are the largest and have the widest audience, brands should also consider smaller festivals that are still relevant to their brand, category and target consumer.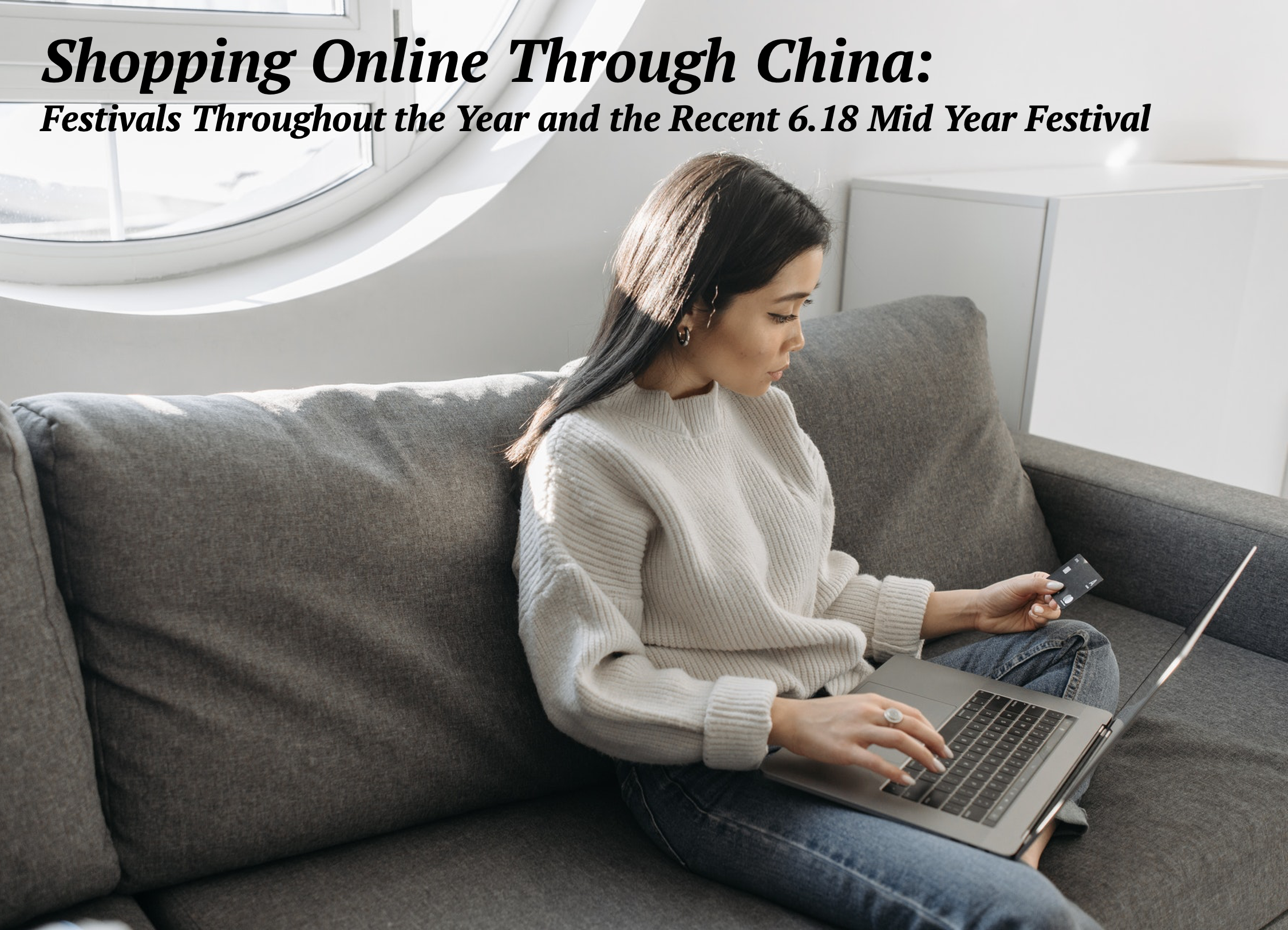 Excerpt from "Ranking War in the China E-commerce Market"
The COVID-19 pandemic had a huge impact on the offline economy, but it has also promoted the development of the online retail industry. Consumption, brand marketing and sales channels have all digitized, and the penetration rate of the e-commerce industry has continued to increase. New formats of e-commerce have developed such as livestreaming e-commerce and social commerce, providing access to e-commerce across an increasing range of people. Younger consumers are coming of age and are gradually becoming the main consumers and e-commerce users. Thus, consumption needs and consumer characteristics of the new generation of customers have changed, causing the continued expansion of the boundaries of and participation in domestic business.
The major e-commerce giants are constantly competing with each other and pushing the boundaries.
During the pandemic, WeChat Mini Programs became crucial in connecting the online and offline worlds, especially in sectors such as government, medicine, online education, fresh, retail, etc. These industries have seen surges in popularity online. Due to online shopping, online food ordering, cloud entertainment and other digital activities, such as online events, live broadcasts, and community group buying. This has helped merchants open up online sales channels and further pushed social platforms into e-commerce.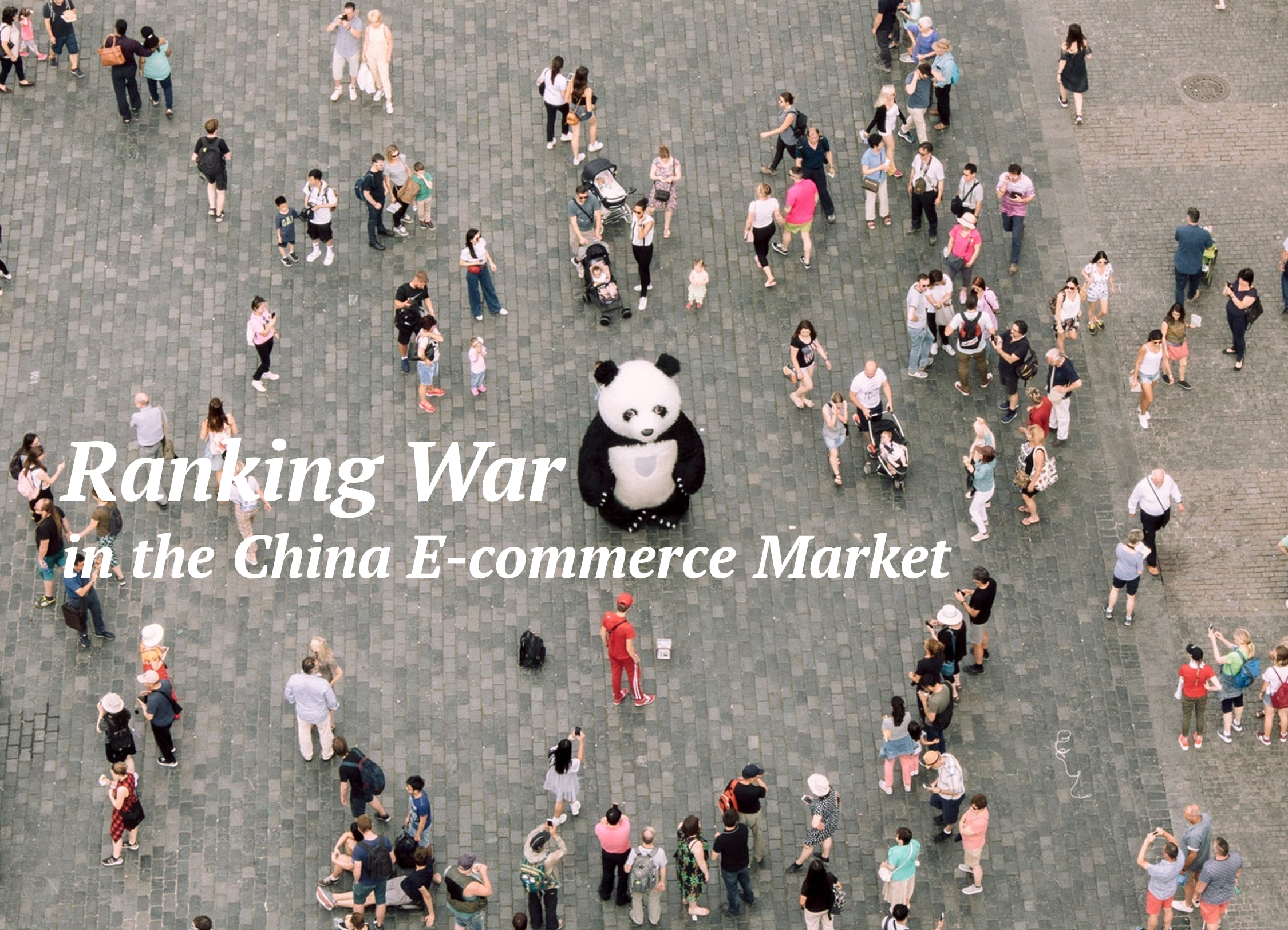 Click

DOWNLOAD HERE

to receive
Issue 4 of The Red Edition.
Please see below for past issues of The Red Edition:
To download Issue 3 of The Red Edition (published 19th January 2021),
CLICK HERE.
To download Issue 2 of The Red Edition (published 26th August 2020),
CLICK HERE.
To download Issue 1 of The Red Edition (published 8th June 2020),
CLICK HERE.
Marketing & Campaigns During CNY
26 February, 2021
In China, it never feels like the new year has begun until the Spring Festival is fully celebrated. As such, Chinese New Year (CNY) is a vital time period for brands to increase their awareness to potential customers. That being said, the line between cultural appropriation and appreciation is thin, making it a challenge that brands need to navigate carefully in order to seize the opportunity and emotionally connect with their Chinese customers.
As a result of COVID-19, many people celebrated CNY in the cities that they work in, rather than returning to their hometowns. Therefore, this created a 'new' CNY culture that has led platforms and brands to come up with innovative new marketing strategies and campaigns. We've compiled a few examples below:
Tmall's "Cool China" CNY Shopping Festival
During this year's Spring Festival, Tmall met the emotional needs of young consumers on the platform by creating a "New Year's Vibe" through cross-over collaborations with mainstream local brands, including Chali and LYFEN. These brands helped to develop cross-over bundles and gift boxes that used modernized CNY-themed designs for their Tmall customers.
In addition, Tmall also released a series of region-themed posters that turned traditional local products into trendy CNY goods, which were in line with the aesthetic preferences of young consumers. These posters offered in-depth insights into regional differences, accurately targeting audiences from all over the country.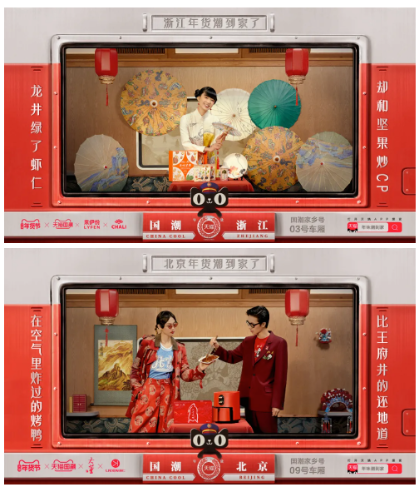 Oreo's CNY Product Launch
Right before Chinese New Year, Oreo launched a new flavour combination of citrus and lychee, which they called "New Year's Little Red Cookie". The launch reflected the traditional CNY themes, while still offering a more modern take. For this product launch, 16 new designs were created and imprinted into the cookies, making it more fun for the consumers. The brand also developed creative videos that helped to combine traditional CNY culture with eating Oreos, further building up the brand image.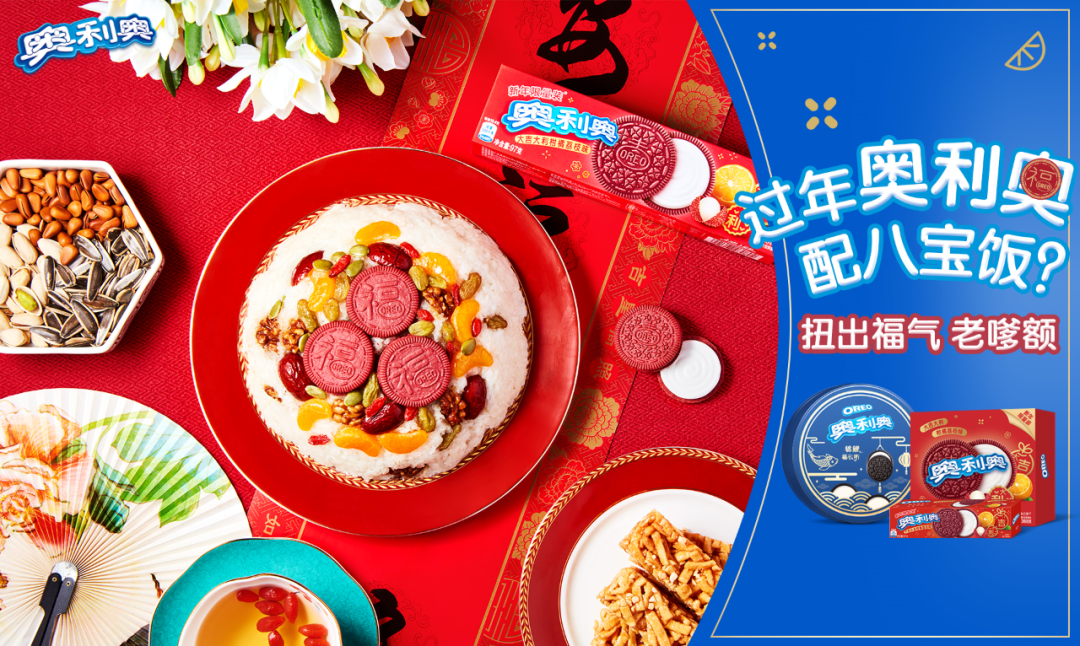 Adidas: The Year of the Ox
For this year's Chinese New Year, Adidas collaborated with a number of celebrities to launch a campaign connecting online and offline activities. The launch involved releasing limited edition coins that users were able to redeem both online and offline. A TV advertisement was filmed for the campaign, featuring celebrities such as Jackson Yee, Eason Chan, Liu Yi Fei, Zhang Jun Ning and Wang Sheng Di, and, with the use of special effects, showed them traversing the city during Chinese New Year.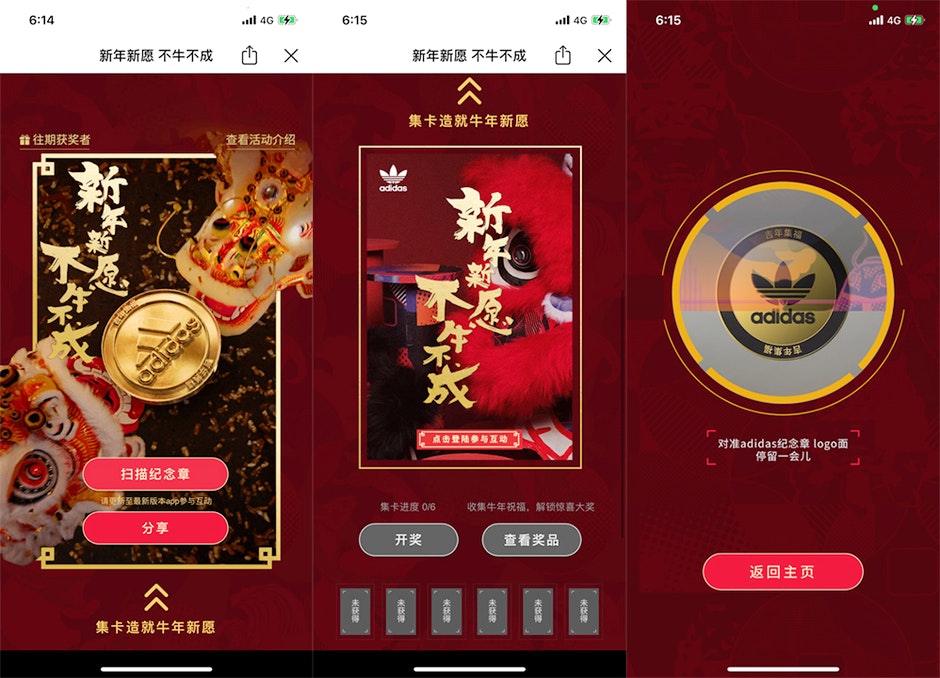 If you have questions on branding and marketing in China, contact us now by clicking "say hello"
THE RED EDITION: ISSUE 3
20 January, 2021
RedFern Digital is proud to announce the release of the third issue of our magazine:

In this issue, we discuss the trends seen in the latter half of 2020 and explore what these trends might mean for the China market.  We cover a wide range of topics, including a deep dive into the Double 11 shopping event that occurred last year, a look at how B2B businesses operate in China, and a spotlight on specific categories such as baby accessories and health supplements. Have a read of our magazine to gain insights and tips on digital marketing and e-commerce in China as we head into 2021.
"With the ability for quick cross-border entry into market, many brands will be turning to China as a new market for opportunity and growth in 2021. Although growth and market opportunity through cross-border e-commerce (CBEC) is apparent, many foreign brands need to understand that there are two trends that may not act in their favor; an increasingly competitive domestic market and an increasingly sophisticated and diverse consumer."
– Ryan Molloy, CEO
The third issue of The Red Edition can be accessed by clicking
DOWNLOAD HERE.
An alternative link is available if you are accessing it from inside mainland China,

DOWNLOAD HERE.
This issue will cover the following topics:
Message from the CEO
Business-to-Business Marketing Growth and Conversion in the Digital Era
Staying Healthy in China: The Rise of the Health Supplements Industry
Post-COVID-19 Double 11, What has changed?
Pushing Sales During Double 11, New Mechanisms and Livestreaming
Looking at the Trend of China's Economic Development through Double 11, 2020
The Changing Landscape of the Chinese Baby Accessories Market
Partner Insight: China Skinny – Chinese Consumers in 2021
Partner Insight: Alibaba – The Export Opportunity
Partner Insight: Integra – RCEP Brief
China International Import Expo 2020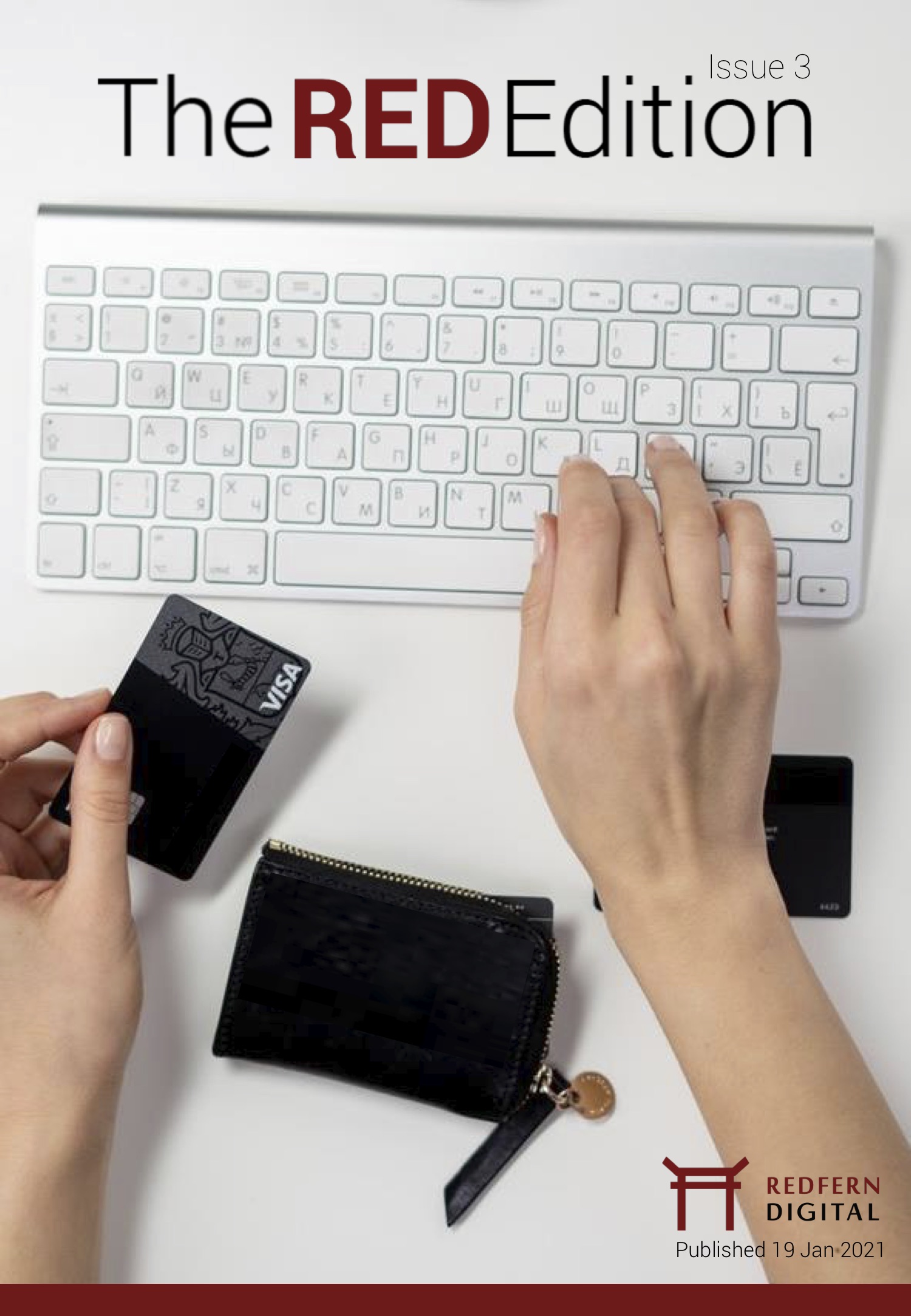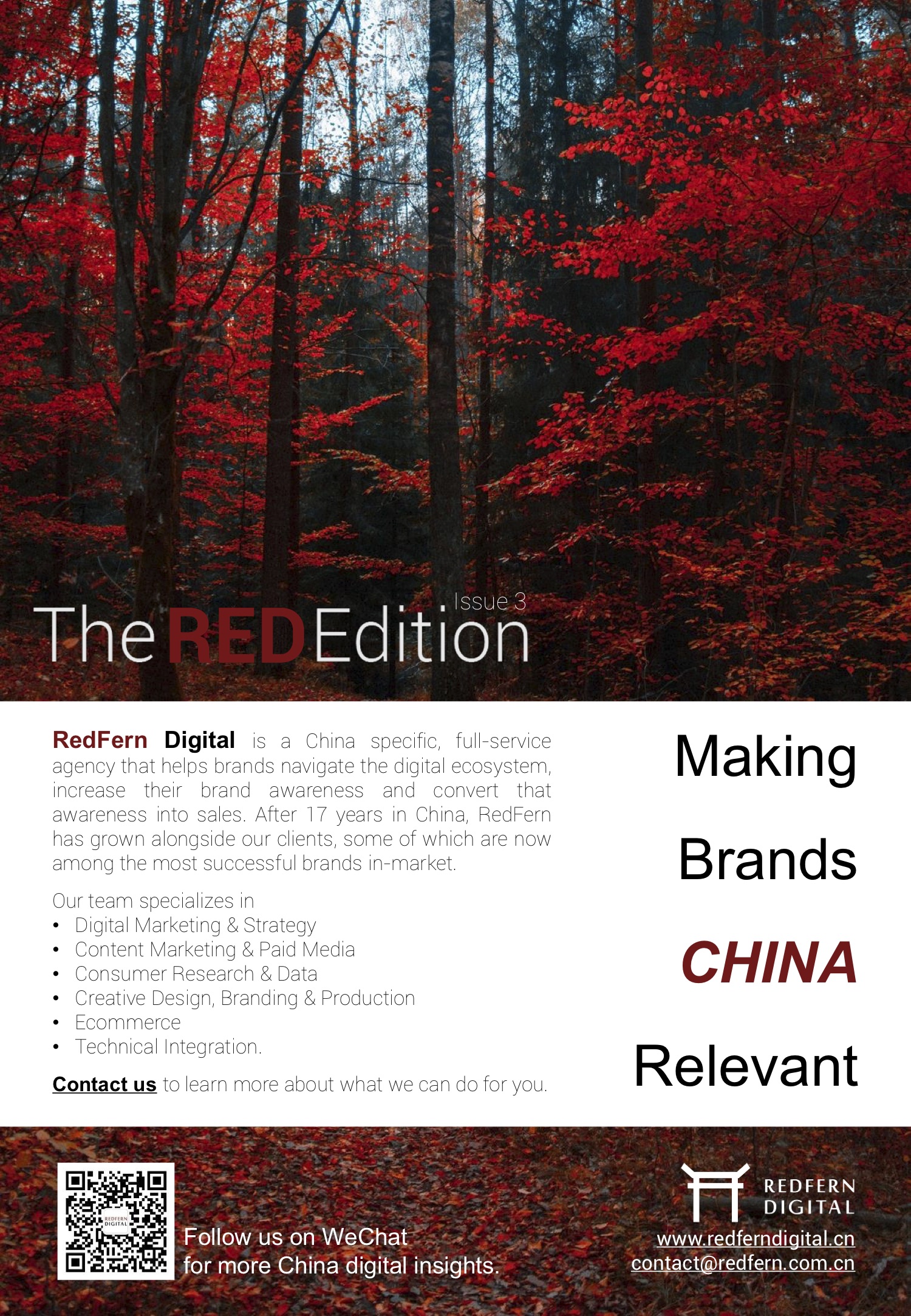 Excerpt from "Business-to-Business Marketing Growth and Conversion in the Digital Era"
In the past year, marketers, especially in the B2B industries, have felt the urgency to shift their focus to the digital landscape. On the one hand, offline marketing, which has worked throughout the past years, is limited in terms of scale; on the other hand, successful cases of companies embracing new marketing approaches in their digital transformation are a guide for other brands in the industry in their paths forward.
When we talk about B2B marketing, there are several questions that must be considered no matter the industry:
How can we effectively acquire new leads and grow the customer base when traffic costs are increasing each year?
How do we prioritize the high value leads for the sales team to follow up on in order to increase the conversion rate?
How can we reach the end consumer and receive feedback data in order to help us increase the effectiveness of our marketing, for both the brand and the channel partners?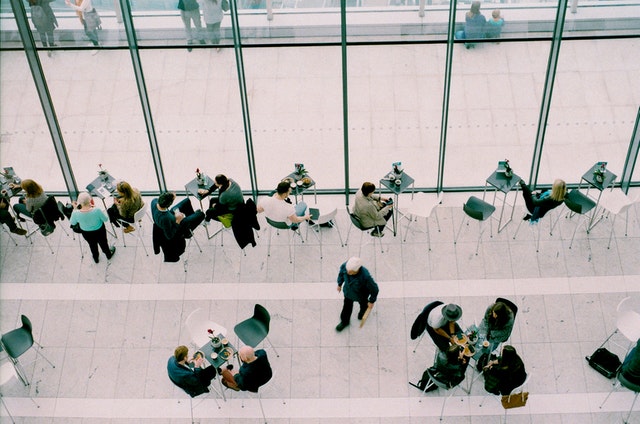 Excerpt from "Looking at the Trend of China's Economic Development through Double 11, 2020″
The 12th Double 11 Festival held by Tmall came to an end with a final turnover of 498.2 billion RMB. However, unlike in previous years, this figure is not just from November 11th itself, but is the cumulative total of sales from November 1st to November 11th. At the same time, JD's cumulative turnover during Double 11 exceeded 271.5 billion RMB. Since the past two years, Double 11 has expanded beyond an exclusive game played between Tmall, JD and Suning. New E-commerce platforms such as Pinduoduo, Douyin, and Kuaishou have also joined the battlefield.
As a result of the COVID-19 pandemic, global consumption has continued to weaken, and many European and American companies hoped to focus their attention on the Chinese market. This hope is not groundless. On the one hand, in the past 10 years, the sales volume of Double 11 has maintained a double-digit growth rate. On the other hand, online shopping has remained strong even during the pandemic.
Tmall's Double 11 will most likely be able to last another 12 years, continuing to create new transaction records. The reason for this is not only the discounts and promotions offered during the shopping festival. Other factors include the emergence of new consumer demands, the increase in national income and the evolution of China's E-commerce industry, all of which have boosted the growth of Double 11.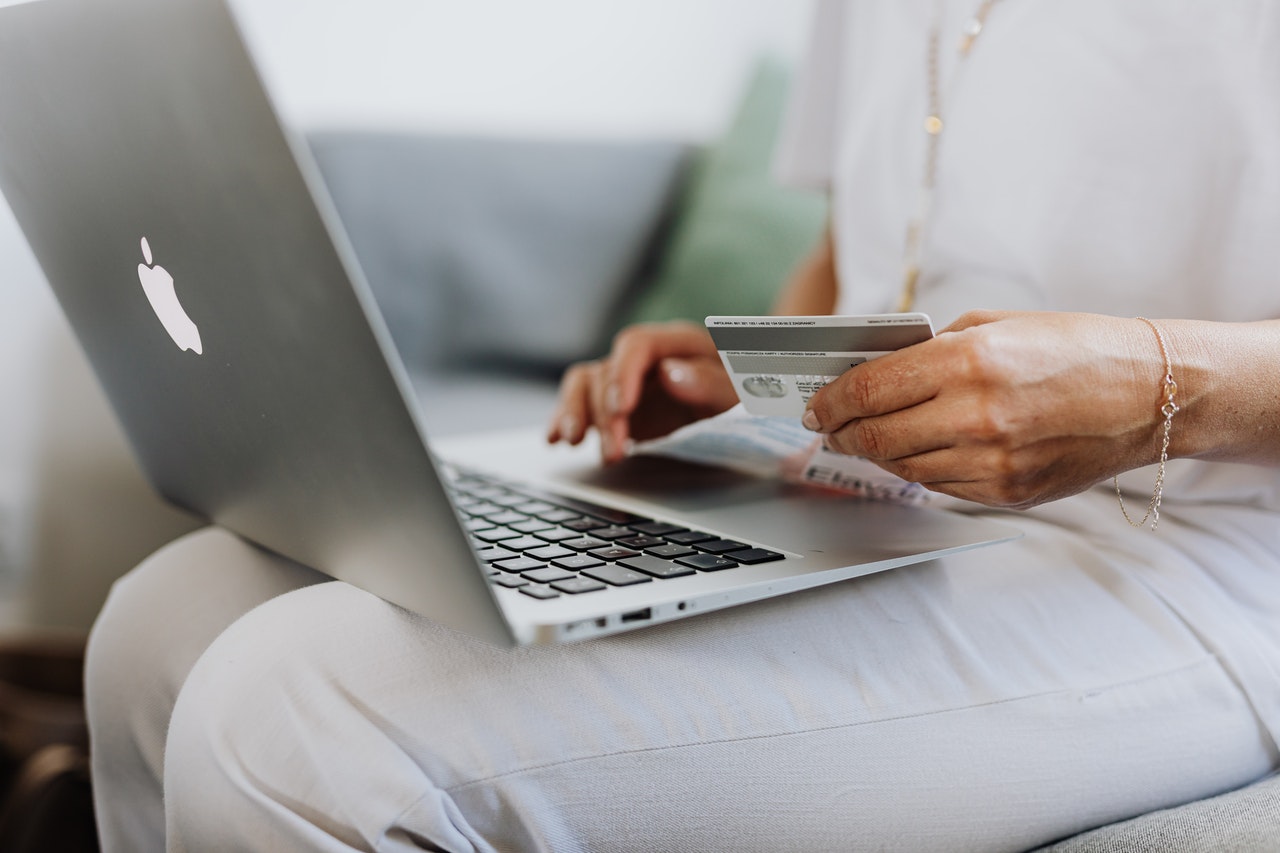 Click

DOWNLOAD HERE

to receive
Issue 3 of The Red Edition. An alternative link is available if you are accessing it inside mainland China, DOWNLOAD HERE.
Please see below for past issues of The Red Edition:
To download Issue 2 of The Red Edition (published 26th August 2020),
CLICK HERE.
To download Issue 1 of The Red Edition (published 8th June 2020),
CLICK HERE.
10 Tips for B2B Businesses: Entering and Marketing in China
16 September, 2020
When compared to B2C marketing, B2B marketing has several differences.
B2B businesses usually target specific groups of professionals or job roles, whereas B2C marketing has a broader audience. Below are tips for both entering and marketing in China as a B2B business.
Entering China as a B2B Business
1. The different methods of entry into China.
For B2B businesses that wish to enter the China market, there are a number of methods for getting established, each with its own advantages and disadvantages. Some of these options include establishing a Wholly Foreign Owned Enterprise (WFOE), partnering with a Chinese entity and forming a Joint Venture, or forming a Representative Office.

2. Chinese regulations and government policies.
Since regulations and policies for foreign business operating and marketing in China are frequently changing, companies need to be vigilant and stay up-to-date with these changes because they could significantly impact how the company functions.

3. Intellectual Property Rights in China.
China has a 'first-to-file' patent and trademark system, as such, understanding this system and the other intellectual property rights relevant to specific B2B industries is important to long-term operations in the country.
B2B Marketing in China

4. China's market is not homogenous or uniform across the entire country.
Foreign B2B companies operating in China need to understand that there are social and economic differences depending on the region and city-tier, which could affect how they market to or communicate with potential clients.

5. Keep up to date with marketing trends.
With continued digital transformations in China, Chinese companies and people tend to be more digital than their foreign counterparts. Therefore, online marketing is essential for B2B companies, and oftentimes communication or the exchange of contact information is digital, e.g. connecting on WeChat instead of exchanging business cards. Other important trends that could affect B2B companies, depending on their industry, include the rise of E-commerce and the popularity of livestreaming.

6. Branding is not just for B2C businesses.
Branding and localization are just as essential for B2B businesses as for B2C businesses because it assists with company recognition and validation. B2B companies need to establish themselves as trustworthy in their industry, part of which involves creating a strong, consistent brand image across multiple touchpoints, tailored to Chinese etiquette or expectations. For B2B marketing, important aspects of branding include internal resources (culture, vision, mission of the company) and testimonials, as it is not only the product or service that the customer cares about, but also what it means to work with a specific B2B company instead of its competitors.

7. Target B2B clients across a number of different touchpoints.
B2B clients should be targeted across a number of different touchpoints, including offline (or, since COVID-19, online) conferences, exhibitions and tradeshows or through digital channels such as social media, email, website, LinkedIn or programmatic advertising. Since it usually takes a longer time and a more thorough understanding of the company for B2B customers to make a decision, marketing efforts require careful effort at each touchpoint, e.g. how the B2B business first gets in contact with the right person, how to engage them through content marketing later on and how to educate the potential customer on the products/services.

8. B2B clients expect a B2C-like experience.
As digital platforms become more widely used, many B2B clients are expecting B2C-like customer experiences or support, along with personalized services. B2B companies need to keep in mind that although their clients are participating in B2B processes at the office, during breaks or after they return home, these clients become B2C customers. Therefore, their consumption habits will have a large influence on their B2B actions as well.

9. Maintain a consistent presence online.
As China is becoming more digitized, in order to establish themselves in their industry, B2B businesses should maintain a consistent presence online, both in terms of brand image and frequency of new content. Building up an online presence is essential for brand communication and lead generation, especially because Chinese clients tend to research companies extensively before they reach out. Brands should set up a Chinese-facing website, establish official accounts on social media platforms, and more optionally, use programmatic advertising or create press releases. Depending on the clientele, these channels should also have Chinese versions as well, especially for validation of the company's expertise in the China market. Content marketing online is very important for most B2B businesses as it is a method of demonstrating the business's expertise in their particular industry and how the business is able to meet the potential clients' needs.

10. Don't underestimate the importance of WeChat.
WeChat has about 1.2 billion monthly average users and is the largest platform in China, therefore, B2B companies need to know how to utilize this platform effectively. Exchange of contact information and client communication are oftentimes held through WeChat instead of through other methods, such as email. Having a readily available WeChat QR code for the company is important during offline events to allow potential clients to scan and look up the company. WeChat is also effective as a tool for customer relations management (CRM), for offering customer service and as a simple method through which potential clients can reach out to the company.
If you have questions on branding and marketing in China, contact us now!
THE RED EDITION: ISSUE 2
26 August, 2020
RedFern Digital is proud to announce the release of the second issue of our magazine:

In this issue, we will touch on a number of different industries, providing insights and suggestions on how brands can operate within these sectors. From our head of design and our head of E-commerce, we'll also provide tips on brand localization and a look into the 618 shopping festival in the Post-COVID-19 Era.
"I would like to thank our partners Alibaba, CBBC and ChemLinked for their wonderful contributions to this issue of The Red Edition. I hope that through this issue, readers can discover new insights and key takeaways that will help them on their China Market Journey. "
– Ryan Molloy, CEO
The second issue of The Red Edition can be accessed by clicking

DOWNLOAD HERE.

An alternative link is available if you are accessing it inside mainland China, DOWNLOAD HERE.
This issue will cover the following topics:
Message from the CEO
Rise of Digital Marketing in China by Overseas Higher Education Institutes
Message from the Creative Director – Localization of the foreign brand's Visual Identity, achieved in three parts
Campaign Spotlight – Kuaishou: Fighting Back
Drunk on potential in the China Imported Alcohol Industry
Sparkling water is fizzing through China
Message from the Head of E-commerce – The 618 Shopping Festival in the Post-COVID-19 era
Achieving success in the Mother & Baby category
Partner Insight: CBBC – Insights on the Baby Food Category in China
Partner Insight: ChemLinked – 2020 H1 China Food Market Review: Categories with Brilliant Performance
Partner Insight: Alibaba Group – Consumption trends analysis as Chinese consumers emerge from COVID-19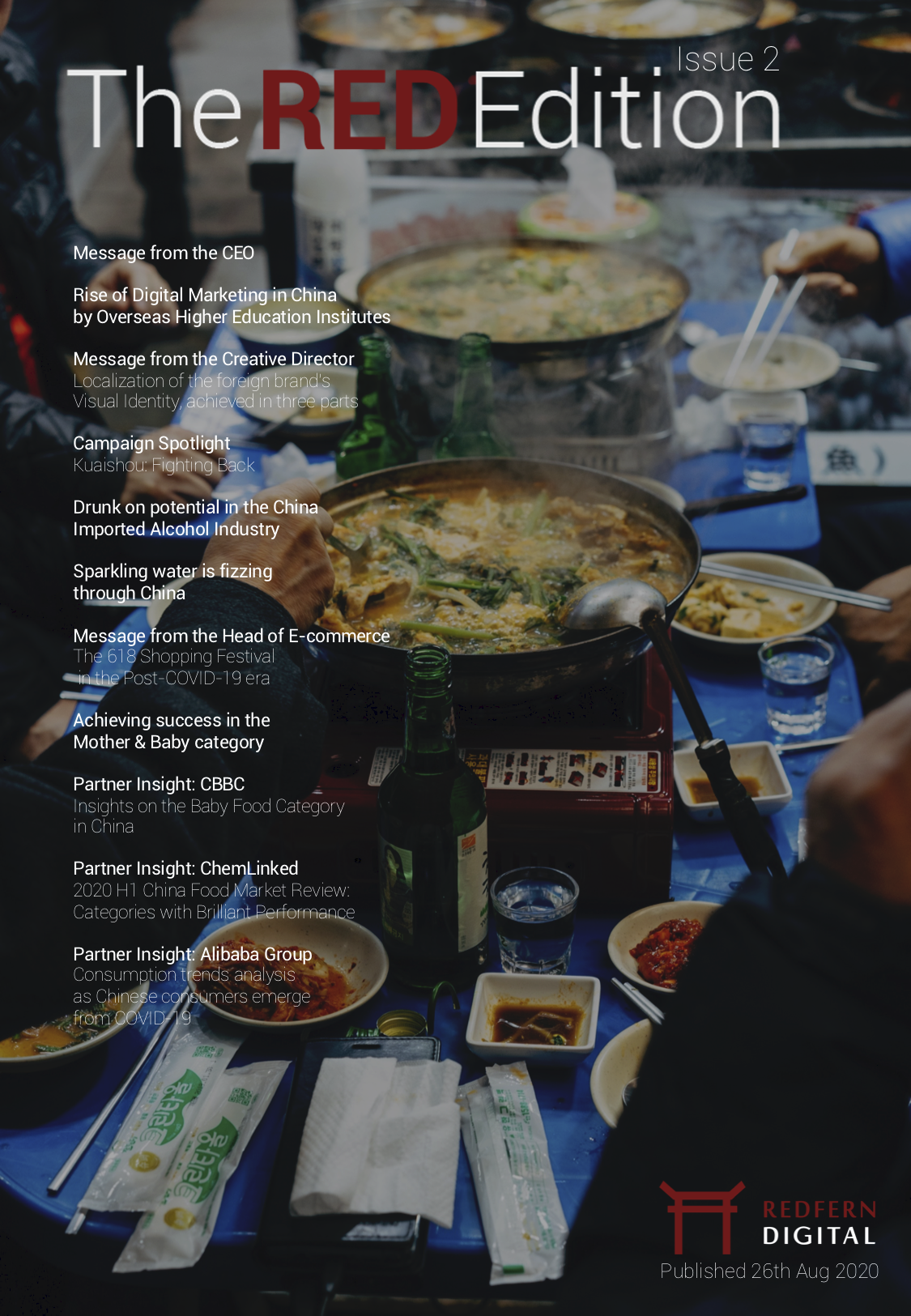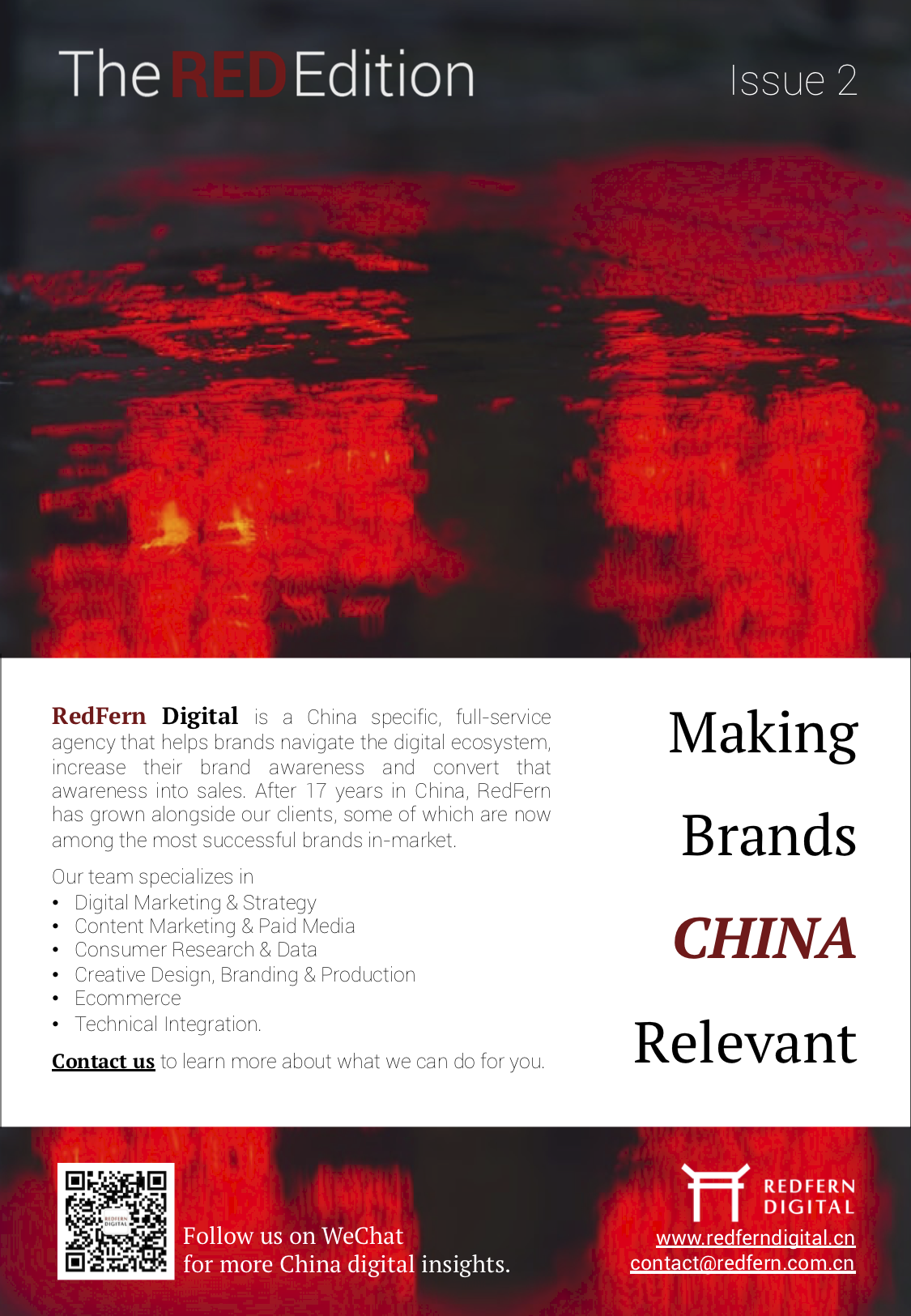 Excerpt from "Rise of Digital Marketing in China by Overseas Higher Education Institutes"
In the past couple of years, China has been leading the world in terms of the number of Chinese students studying abroad. According to China's Ministry of Education, there were around 662,100 students studying abroad in 2018. However, the COVID-19 pandemic has had a huge impact on the Chinese international education sector.
One consequence of the health crisis was its effect on the mobility of Chinese students studying abroad or planning to study abroad for both the previous academic year and also the upcoming one. According to a survey conducted by the Beijing Overseas Study Service Association (BOSSA) in February 2020, 43 investigated educational agencies in China indicated that many enrolled students are being blocked entry to and exit from the countries where they had planned to study in…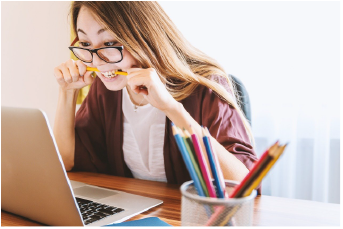 Excerpt from "Drunk on potential in the China Imported Alcohol Industry"
The alcohol industry in China has been growing rapidly over the past two decades, despite slowing growth rates in the past couple of years. When compared to 1990, there has been a 70% increase in alcohol consumption in China. The estimated total revenue generated by the Chinese alcohol industry in 2019 was 246 billion USD.
With a wider selection of products and with the convenience of E-commerce, Chinese consumers have turned their attention more and more to premium or imported brands that produce alcoholic beverages ranging from beers to spirits. In fact, E-commerce has allowed foreign alcohol brands to reach consumers across the entire nation, selling products in locations where the brand may not have offline stores.
The Chinese population born after the 1980s have become increasingly important for the alcohol market. This category of consumers tends to be well-educated, more globally minded, and less price-sensitive, therefore, they are likely to purchase more premium products, such as craft beers or imported wines, for a more unique and customizable experience…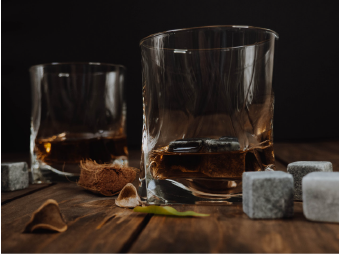 Click

DOWNLOAD HERE

to receive
Issue 2 of The Red Edition. An alternative link is available if you are accessing it inside mainland China, DOWNLOAD HERE.
To download Issue 1 of The Red Edition (published on 8th June 2020), CLICK HERE.
Marketing in China: 15 Steps to Follow
14 August, 2020
When first entering the China market, digitalmarketing is key to driving sales for foreign brands.
To effectively market in the country, brands should focus on understanding the differences between China and their country of origin. Brands' marketing efforts should be tailored to differentiating themselves from their competitors and to targeting potential customers within the China market.
Below are 15 steps that brands can follow in their China marketing efforts:
1. Understand the differences in China's digital landscape and internet behavior.
China has a very different digital landscape when compared to foreign countries, especially because China has its own set of popular social and e-commerce platforms. Gaining a better understanding of the differences in the digital landscape and internet behavior in China will help brands with their marketing approach.

2. Research your brand's specific industry or category in China.
Depending on the industry or category, brands should approach marketing in China through very different methods. For example, B2B and B2C companies should emphasize different marketing channels in order to reach their potential clients/consumers.

3. Look on social media for consumer insights on products within your industry/category.
By looking online at what consumers are saying about their industry or products, brands can gain a better understanding of the social media landscape, both in terms of the industry and the consumers of that industry.

4. Research what your competitors are doing in the market, e.g. platforms, campaigns, products, etc.
Brands should learn from their competitors when marketing in China, researching which campaigns or marketing methods were successful and which were not. Brands can then use what they learned to develop their own successful campaigns while avoiding mistakes that competitors might have already made.

5. Determine your brand/product's unique selling points (USPs).
With the large amount of competition in the China market, brands need to determine and emphasize the unique selling points that make them stand out from the crowd.

6. Define your purpose for creating content and develop content pillars.
Before creating content, brands should determine who their content is directed towards, what interests their desired readers have, and what the purpose of creating the content is. Content pillars should be developed to appeal to the desired readers.

7. Develop marketing material for the China market, e.g. key visuals, designs, slogans, etc.
Brands should localize and develop marketing material specifically for the Chinese market, but should be careful not to go overboard with localization as to render the brand unrecognizable.

8. Know your target consumers and understand their characteristics and behavior.
Understanding the characteristics, interests and behaviors of the target consumers is extremely useful when brands are trying to appeal to them.

9. Choose the platforms that you will be conducting paid media on.
Depending on the brand category and product type, brands should choose platforms that are most trafficked by their target consumers to conduct paid media on. Using paid media, brands can create touchpoints across different media channels, deepening brand presence and awareness in the China market.

10. Collaborate with KOLs to promote your brand.
KOLs are an extremely important factor in the purchase decision making journey of Chinese consumers. Therefore, working with KOLs to market and promote the brand can help to drive sales.

11. Conduct product seeding with KOCs.
Product seeding with KOCs will increase brand awareness online. Product seeding is more of a long-term investment for building up the brand reputation and trustworthiness among potential consumers.

12. Create a multi-platform marketing plan.
The marketing plan should form a cohesive story for the brand, should include goals and KPIs for each step, and should include the marketing format (e.g. text, image, video, livestream), content plan, campaign ideas, paid media tools, and upcoming festivals to promote during.

13. Reassess and readjust at the end of each month or after each campaign.
Brands should constantly be reassessing and making adjustments to their marketing efforts in order to ensure that their efforts have been and will continue to be successful.

14. Work on building up a community of customers and building up customer loyalty with the aim of encouraging repeat purchases.
By fostering a community of loyal customers, brands will be able to increase repeat purchases and form their own private traffic that the brands have direct control over.

15. Remain up-to-date with the latest trends in social media or in your category.
With the fast-developing pace of the digital landscape in China, brands should stay up-to-date onthe latest trends so that their campaigns and promotions remain relevant to their industry and to their potential customers.
By following these 15 steps, brands will be able to better focus their marketing efforts and increase their chances of successfully marketing in China.
If you have questions on branding and marketing in China, contact us now!
Regulations for Livestreaming in China, 2020
21 July, 2020
Regulations have become necessary to restrict fraudulent activity and misinformation.
With the increasing relevance of livestreaming in the China digital landscape over the past couple of years, especially in the realm of e-commerce, more regulations have become necessary to restrict fraudulent activity and misinformation.
Introduction to Livestreaming in the First Half of 2020
During the COVID-19 outbreak in China, livestreaming was a market savior for many brands and stores that were forced to shut down their offline channels due to the lockdown. As consumers were also isolated in their home and spent more time online, the time period became an opportunity for brands to focus on their online sales channels, a big part of which included livestreaming.
In terms of percentages, Taobao Live saw a 719% month-on-month increase in new merchants in February, while the number of livestreaming sessions on Pinduoduo increased by over 500% from February to March of this year.
The importance of livestreaming in China was also demonstrated during the 6.18 festival, which was the first nationwide shopping holiday this year since the COVID-19 outbreak. During the 18 days of the event, JD hosted over 300,000 livestreaming sessions, with livestream hosts ranging from KOLs to CEOs. In addition, more than a dozen livestreams were hosted through Alibaba on June 16th, which, combined, saw a total of more than 100 million RMB in sales.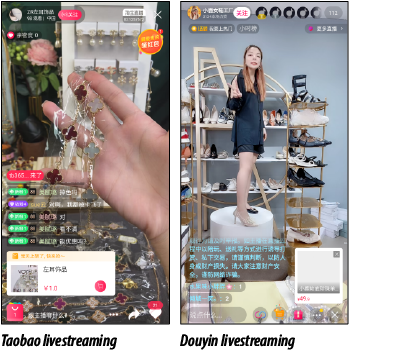 New rules and regulations
 As can be seen, livestreaming is extremely prominent in e-commerce and has helped to drive sales for a vast number of different brands and industries. However, with the increased use of livestreaming, there has also been an increase in concern for the misuse of this new e-commerce format, especially due to the fact that livestreams are not a permanent form of content. Examples of these concerns include vulgar or illegal content, fraudulent activity and misrepresentation of products or services sold through livestreaming, which could include false promotions and poor quality of products.
In order to tackle these concerns, several departments in China, including the State Administration for Market Regulation, have begun to work on developing standards for and increasing supervision on livestreaming activity. National standards for e-commerce through livestreaming are being developed by the China General Chamber of Commerce and provincially, by authorities in the Zhejiang province, headquarters of Alibaba. These standards are expected to be officially released and implemented in July, and will cover livestreaming platforms, hosts, networks and all entities involved in the e-commerce livestreaming industry.
Moreover, the China Advertising Association (CAA), a non-profit organization that represents the Chinese advertising industry and promotes good practices, released its "Code of Conduct for Online Live Marketing", which took effect on July 1st. The report stipulates the rights, obligations and responsibilities of businesses, brands, or other participants of e-commerce activity through livestreams. A summary of the main points outlined are provided below:
Livestreaming hosts must have their real names authenticated on the platform before any livestreaming activity can be conducted. During the front-end livestreams, hosts may still use screen names, as long as they are in line with the requirements of the laws and regulations.
During the livestream, all information provided to the viewers must be complete and accurate. Livestream hosts cannot misrepresent, exaggerate, or spread false information on the products or services they promote, and cannot mislead the viewers.
Illegal or vulgar content cannot be spread through livestreams.
Any marketing data from the livestream that is provided by the host, e.g. to the livestreaming platform or to the merchants, must be accurate. This includes livestream viewership numbers and sales numbers.
Livestreaming platforms must provide marketing data as requested by the relevant authorities and must operate under their supervision.
If breaches of the code of conduct are found, the CAA will report these instances to the relevant authorities for additional investigation.
In terms of recognizing and regulating the profession of the livestreaming host, several steps have also been made.
Earlier this year, the Ministry of Human Resources and Social Security in China released a report that recognized 10 new professions, one of which was livestreaming salesperson, listed under internet marketing specialist.
Authorities in the Zhejiang province, headquarters of Alibaba, released the "Specifications for Training and Evaluating E-commerce Livestreaming Talent" on June 26th. In this report, the first standards in China are provided for livestreaming hosts and include areas such as skill level, professional knowledge, training, talent evaluation and certification. These regulations set three skill levels, junior, intermediate and advanced, which are determined through independent assessments.
Finally, led by the Cyberspace Administration of China, crackdowns on illegal livestreaming activities have already begun, with a large number of livestreaming platforms already being warned or terminated due to their spread of vulgar or illegal content.
With new regulations and scrutiny on livestreaming activity in China,
e-commerce through livestreaming is likely to become even more popular due to the additional trust that viewers will have for the information on the products and services that are sold through.
Reduction in Commission Rate on Xiaohongshu
7 July, 2020
One of the most popular platforms known for social commerce is Xiaohongshu. or Little Red Book (RED).
Social commerce has arisen over the past couple of years as an integration of social media and e-commerce. One of the most popular platforms known for social commerce is Xiaohongshu. or Little Red Book (RED).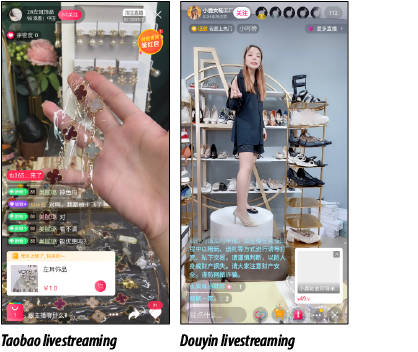 Xiaohongshu Background Information
RED started off as a platform for sharing product reviews and recommendations among young Chinese consumers, after which the platform began to implement e-commerce features that allowed individual merchants or brands to open up stores and sell products. However, despite the e-commerce options and the ability to purchase directly on RED, the platform is still mainly used to research products and find reviews, before the buyers head over to other e-commerce platforms to purchase the product, e.g. Tmall or JD.
Considered one of the biggest online lifestyle communities in China, last year, the platform reached over 85 million monthly active users on average and had a total of over 250 million users. RED's userbase is predominantly female, with the majority still under 30 years old, which makes the platform popular for categories that include travel, beauty, fashion, luxury goods, and FMCG. Although beauty is the largest category on RED, travel is currently the fast growing.
RED has its own userbase, however, compared to larger e-commerce platforms, the user numbers on RED are still relatively small. Thus, the platform is more well-known for grassroot promotions or product seeding. The reviewers on the platform are Key Opinion Consumers (KOCs), a type of influencer that is more small-scale than Key Opinion Leaders (KOLs) and that focuses on product testing and reviews. KOCs are generally considered more trustworthy and authentic due to their image of being 'just another consumer', making them a powerful influencing factor on the purchase decision making journey of consumers.  Therefore, RED is a powerful tool for building brand awareness, especially if the target audience matches with RED's already established userbase. Many brands invest in building up a presence on RED to increase their credibility and reputation among consumers, even if the brands do not have a store on the platform.
Reduction in Commission Rate
In early July, RED sent a notice to sellers, informing them of a reduction in the base commission rate that the platform would be charging. Before the reduction, RED's commission rate was between 15-20%, depending on the merchant and the category of goods, which makes the drop in commission rate a significant change.
A summary of the points addressed in the notice is provided below:
As a result of the COVID-19 outbreak and the slow recovery of the Chinese market during the latter half of the year, RED announced that it is willing to work with the merchants on the platform to build an ecosystem.
Starting from July 1st, 2020, RED will be reducing the base commission rate to 5%.
The reduction in the base commission rate is applicable to merchants that have signed a store service agreement with RED and whose agreement is still in effect. Exception to this include instances in which the merchant and RED have other agreements stipulated.
For sales that are directed from RED's product recommendation features, the commission rate charged by the platform is reduced to 3%.
With the reduction in commission rates, more brands and merchants will be encouraged to focus their e-commerce efforts on RED, e.g. by increasing investments, opening up a store, collaborating with KOLs, conducting product seeding, or by utilizing the advertising tools that the platform has available. These changes will likely have a large impact on smaller brands that have less sales volume and would require a lower commission rate in order to consider opening a store on the platform.
Since RED's main source of revenue currently comes from advertisements, dropping the commission rates could be an attempt at increasing the merchants on the platform, and therefore the revenue from sales commissions.
The lowered rates will also make RED more competitive for brands when compared to larger e-commerce platforms such as Tmall, which has a commission rate of 0.5 – 5%, and JD, which has a commission rate of 2 – 8%. The exact commission rates for both Tmall and JD are dependent on the category. Moreover, RED prohibits diversions to other platforms such as Douyin, Kuaishou, Weibo and Taobao, which further limits the loss in traffic to competitors.
The increased attention on RED from brands and sellers will also impact their customers, since after opening stores on the platform, brands will begin to drive customer traffic to RED. Therefore, RED will become more accepted among users as a platform for not only reviewing and recommending products, but also for purchasing products. This shift in perception of RED will likely increase future e-commerce activity on the platform and could be an attempt to create a closed-loop system where users can go to RED both for product research and product purchase.
THE RED EDITION: ISSUE 1
8 June, 2020
RedFern Digital is proud to announce the first issue of our magazine:

The Red Edition will provide insights, discussions and tips on all aspects of China's changing digital landscape, from popular trends, to shifts in e-commerce, to localization and design.
The first issue of The Red Edition can be accessed by clicking


DOWNLOAD HERE.
The issue covers the following topics:
Message from the CEO
Headline Story – Livestreaming in China 2020
Message from the Creative Director – When we look at Design
Campaign Spotlight – Rising Waves': Getting out of the circle
Quarterly Trends – Plant-based "meat"
Partner Insights – The need for FMCG/F&B Group Mini Programs
Colleague's Corner – Looking at WeChat Mini Programs
Message from the Head of E-commerce – Discussing the State of E-commerce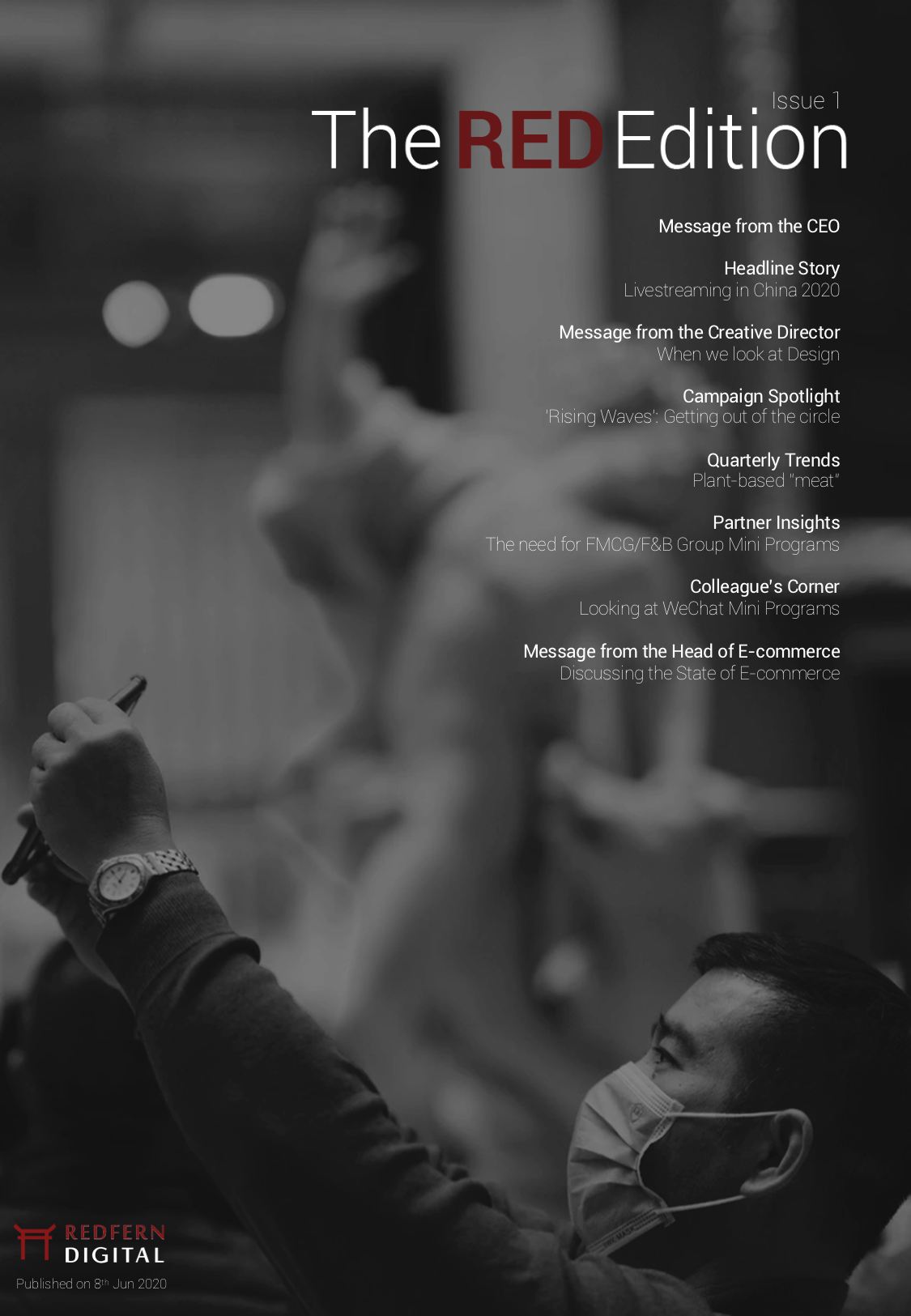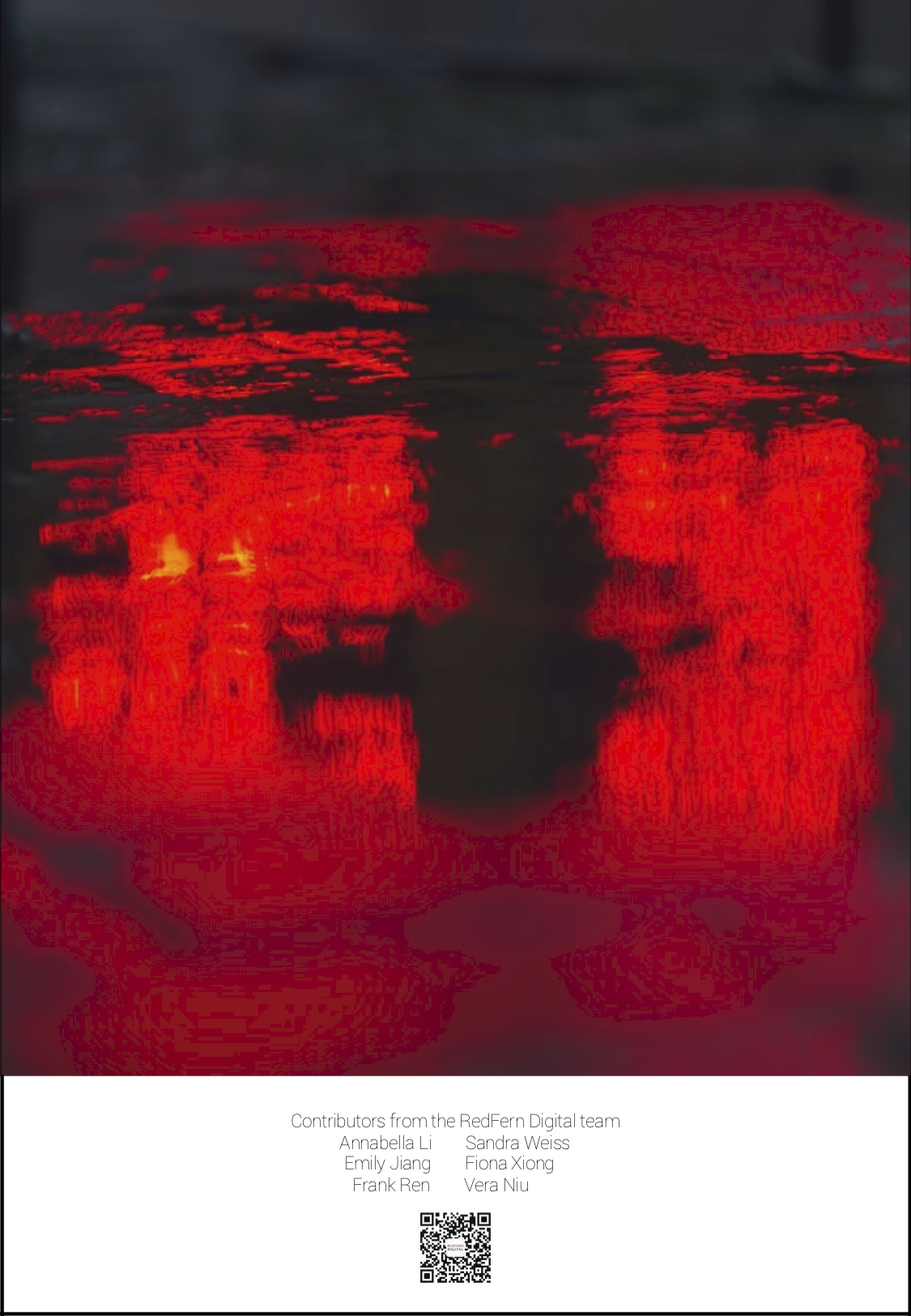 Excerpt from the Headline Story
In the past few years, livestreaming has exploded onto the online scene in China, taking over and combining entertainment and e-commerce. During the COVID-19 outbreak period, offline stores were forced to close due to quarantine, which caused many businesses to start pursuing online sales channels instead.
The advantage of livestreaming as an e-commerce tool is that it provides an interactive and engaging method to allow the livestream host to display products, provide information, answer consumer questions, and ultimately encourage the viewers to purchase the product or service.
The full article on Livestreaming in China 2020 will go into more detail on why live-streaming is so popular, what the different types of livestreaming are, and specific livestreams that have been conducted along with their results.
Click

DOWNLOAD HERE

to receive
Issue 1 of The Red Edition.